According to Troy Henikoff, Cofounder and CEO at Excelerate Labs, in the tech startup world unemployment is at 0%. He says, "I hear about economic crisis in the news, but I do not feel it – I feel opportunity. Everyone is working on something, nobody is looking for a job! Sure, some are bootstrapping and pinching pennies, but there are so many opportunities right now, I which we had twice as many skilled developers working with our companies!"
The idea of bringing an accelerator to Chicago was birthed by Sandbox Industries and the I2A fund in 2009.
They looked at programs around the country and targeted TechStars and the right model. Ironically that year, TechStars have 19 companies in its then two programs and of them five were from Chicago! Troy tell us, "Sandbox and I2A then brought Sam Yagan and me in and the four of us created Excelerate Labs. SandBox and I2A are local venture firms, Sam is the founder of OKCupid, eDonkey and SparkNotes (now CEO of Match.com) and I have founded and run a number of companies including SurePayroll, OneWed, Amacai and teach entrepreneurship at both Kellogg and Booth."
Startups incubated with Excelerate Labs have raised over $30 million in the last 2.5 years
Troy says, "A startup is always challenging, and we were no different. We have been fortunate that we have had some great companies come through the program, amazing mentors and our 30 companies have raised over $30 Million in the last 2.5 years."
A great team and great mentors comprise Excelerate Labs
Last year they had 135 mentors that did 610 one-on-one meetings with their companies in the month of June alone! They are a mentorship based program and spend a TON of time working with the companies one-on-one. Troy also mentions, "The core team is 5 people this year – The original four founders and Steve Farsht, a great investor and operator. Steve helped out with the class of 2011 and is back full time to help me run the program in 2013, I am very excited to be working with him again this year. We will be bringing on some interns to help out during the program as well."
Making revenue while helping startups
When asked about revenue Troy mentions, "We have a small fund behind us that provides the seed capital to each company and pays for the office space, event, stipends, etc. In exchange, the fund gets 6% common stock in each company. As we help these companies grow and exit, they will help fund the next round of companies!"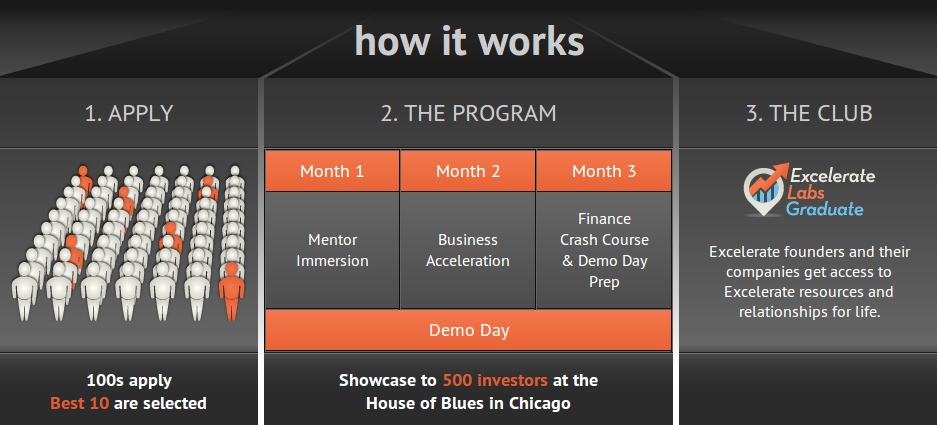 On inviting big sponsors
Troy exclaims, "Sponsorship is never easy – you have to prove that you can provide value to the sponsor. Now that we have a reputation for having some of the best companies and some of the best mentors and investors, there are more sponsors that are interested in aligning with us."
Excelerate Labs is now Techstars Chicago, joining of two great forces
Two weeks ago Excelerate announced their partnership with TechStars, so what was Excelerate Labs is now TechStars-Chicago. Same people, same place, same great mentors, but sitting on a much bigger platform. As Troy says, "It is our goal to put a bright spotlight on 10 companies each year and to help them grow to be as successful as possible. While that helps those 10 companies, more importantly, it helps hundreds of others in Chicago say "if they can do it, so can we!" we want to inspire many more than we can help hands on."
The partnership takes what was always a great program and puts it on a national platform which means Excelerate Labs will get to leverage what they are doing over more people, with more mentors, more investors. The partnership will bring significant value in both directions – Their program adds a lot to TechStars and the Techstars platform adds a lot to their program – it is additive on both sides.
So Troy winds up saying, "We are looking for great entrepreneurs that are tacking interesting problems in big markets. There must be at least two people on the team – there is too much to get done in 90 days for a single founder, there must be at least one technologist on the core team – outsourcing development in this early stage is just too expensive and too slow, and they need to apply before March 15th!"
More information on Excelerate Labs on Crunchbase.
The following two tabs change content below.