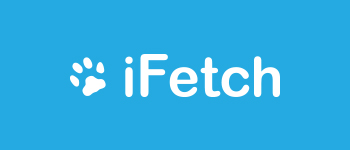 Press Release: Austin, Texas, August 27, 2013 – iFetch has been named as the 1st place winner in the Dog category AND the overall 1st place Best in Show of the New Product Showcase Awards at the 2013 SuperZoo pet industry trade show that was held July 23-25 at the Mandalay Bay Convention Center in Las Vegas, Nevada. iFetch received the New Product Showcase Awards for its dog ball launcher. iFetch was voted for by pet industry retailers in attendance at SuperZoo as one of their favorite items from the New Product Showcase. Select exhibitors were rewarded for their innovative efforts through the 2013 awards.
iFetch is the perfect toy for any small or medium size dog. It's an interactive, on-demand ball launcher. iFetch shoots a small tennis ball between 10 and 30 feet, and teaches dogs to fetch and return in a new and interesting way. The Hamill family says: "Our toy poodle, Prancer, kept dropping a ball at our feet and barking. Grant said "Why don't we make something that will throw the ball for him?" We figured that Prancer was probably not unique, and thus, iFetch was born. iFetch is ready for more homes and more dogs. We know you and your dog will enjoy playing with it just as much as we have enjoyed making it."
Produced and managed by the World Pet Association, SuperZoo is designed to enrich the pet industry by providing networking within the community of pet-related professionals and by giving them access to new trends, products and cutting-edge educational programs that provide innovative business and marketing concepts.
A total of 982 companies exhibited their newest trends and top-selling products to the record-setting attendance at the pet industry expo that is known as the National Show for Pet Retailers.
For further details on this awesome interactive playmate for your pets, contact Denny Hamill at denny [at] goifetch [dot] com or call him on 512-345-6323. Woof-woof!
The following two tabs change content below.